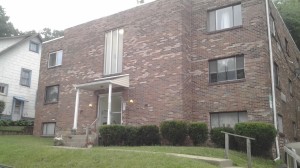 Price: $450000
Address: 1720 Wright Street
City: Pittsburgh
State: PA
ZIP: 15221

MLS #: 1019700
Square Feet:
Acres:
Price/Acre:
Zoned: Commercial

Wilkinsburg Apartment Building For Sale
McCormick Real Estate & Management presents a great investment opportunity – 1720 Wright Street located in the Borough of Wilkinsburg, Allegheny County.  This fully occupied, multi-family dwelling boasts of a secured entrance to 3 efficiency apartments and 10 one bedroom apartments. Each unit is equipped with a stove, refrigerator, and wall to wall carpeting.  All units are electric and separately metered placing responsibility on tenants for utilities.  Amenities include a nice garden patio for tenants to enjoy some leisure time, coin-op laundry facilities in the basement and easy access to local retail and establishments.  Accessibility to public transportation is within 100 yards of the building.  An additional lot is located directly behind that building which can be used for additional tenant parking.
This small borough located just outside of the City of Pittsburgh holds quite a bit of notable history according to Wikipedia.  Wilkinsburg was founded and developed by European immigrants and was name after John Wilkins, Jr., a United States Army officer who served as Quartermaster General of the United States Army in 1796.  Surrounding communities include Penn Hills Township, Churchill, Forest Hills, Edgewood, Homewood, Point Breeze, and East Hills.
KDKA (under the experimental station name 8XK), the world's first commercially licensed radio station began broadcasting from a small garage in Wilkinsburg which was owned by Frank Conrad.  Today, it is home to WTAE-TV which is located on Ardmore Boulevard.
Apartment Building For Sale in Wilkinsburg
Other relevant memories of this small borough include being the home of the iconoscope, a small photocell "eye" of early television cameras.  The iconoscope was designed and patented by a Russian immigrant named Vladimir Zworykin, a resident of Wilkinsburg Borough.
Notable people from Wilkinsburg include:
Jazz Musician, Daniel Carter;
All-American college basketball player and shortstop for the Pittsburgh Pirates' 1960 winning World Series baseball team, Dick Groat;
American Civil War Medal of Honor recipient, Amzi D. Harmon;
Baseball player and manager, Bill McKechnie
Herpetologist and Conservationist, M. Graham Netting;
Author, Edward Ormondroyd
Photographer and Model, Bunny Yeager
Contact McCormick Real Estate & Management to schedule an appointment to see this great investment opportunity or call us at 412-747-0500!