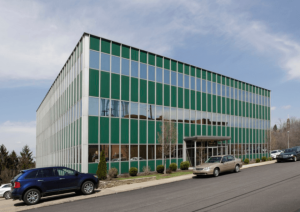 2017 100 Fleet Street Brochure 
Price: $16 per sq. ft.
Address: 100 Fleet Street
City: Pittsburgh
State: PA
ZIP: 15220

MLS #:
Square Feet: 600 - 8000 sq ft suites available
Acres:
Price/Acre:
Zoned: Commercial

Commercial Office Space For Lease
The first of three buildings located in the Jacob Center office complex is 100 Fleet Street.  This three (3) story office building has a green exterior and hosts many professional businesses including a law firm and a staffing agency.  Surrounded by two large parking lots, this building is accessible through its street level entrance facing Mansfield Avenue or through the upper level entrance facing the Fleet Street cul-de-sac.
Jacob Center is a commuter's dream location for office, professional, or medical space.  Because of its unique location, this office complex is easily accessible in so many directions.  This office building is located just off the Greentree Road Exit from the Parkway West in both directions and is easily accessible to both on and off ramps of I-376 leading east to the City of Pittsburgh and points beyond or leading west toward the Greater Pittsburgh International Airport and the borders of Ohio and West Virginia.  Another great appeal is the close proximity to arteries leading to the South Hills.
Office Space For Lease in Greentree
This office complex of three buildings sits on a cul de sac a/k/a Fleet Street which is easily accessed from Poplar Street and is serviced by several Pittsburgh Port Authority (PAT) public transportation bus stops.
The buildings are maintained by a maintenance technician who is able to respond quickly and efficiently to the occasional building issue (light bulb replacement, heat adjustment, etc.).  Property owners/managers are on site to assist when questions or concerns arise.  The owners are willing to do build-outs to meet your business needs, including expansion for long-term tenants.  Lease rates are all inclusive (cover the cost of utilities and office cleaning).
Several retail establishments, restaurants, and hotels surround 100 Fleet Street and Jacob Center adding to its appeal to attract new businesses to the Pittsburgh West Region.