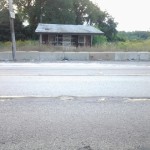 Price: $350,000
Address: 1215 Lebanon Rd
City: West Mifflin
State: PA
ZIP: 15122

MLS #: 1037980
Square Feet:
Acres:
Price/Acre:
Zoned:

Property For Sale in West Mifflin
Looking for a great property for sale in West Mifflin? 1215 Lebanon Road is a prime location to building and grow your business.  Located along a main artery in the borough of West Mifflin with a turning lane spanning the entire length of the frontage, this vacant land boasts of 3.75 acres of table top flat land with several curb cuts.  It is already zoned industrial allowing the new owner(s) full control of usage.  Currently two structures exist on this site.  One structure has a full basement and the other rests on a concrete slab.  Both structures appear to be structurally sound; however, they are in need of repair, cosmetics, and upgrades to be code compliant.  Mineral Rights are included in the sale of this property.
All fuel tanks have been removed from the property and government checks and inspections are in place.  A clean inspection from the DEP is on file.  There are three separate sewage tap-ins on site, which have been paid for and each has a permit – one tap in is already in place.  All utilities, including gas, water, electric, and sewage, are available.  Land is shovel ready for new construction/development.  Part of the property is semi-paved allowing for parking.
Commercial Property For Sale 15122
Visually and accessible is the large billboard located on a major artery toward Pittsburgh.  Traffic counts for this site are in excess of 20,000 vehicles per day.  Neighboring businesses include Harley Davidson, Hot Metal Grill, Hot Metal Plaza, Sheetz, Port Authority of Pittsburgh (PAT), and South Hills Industrial Park.  Retail shopping areas include Century Square and Century Three Mall.
Located along a state maintained road (main artery which leads to downtown Pittsburgh) 1215 Lebanon Road is located approximately five minutes from the Allegheny County Airport and approximately twenty minutes from Downtown Pittsburgh.  This site is easily accessible by traveling Route 885 leading to the County Airport – travel under the airport runway toward Lebanon Road.