Price:
Address: 130 Wabash Street
City: Pittsburgh
State: PA
ZIP: 15220

MLS #: 1077667
Square Feet: 400 - 2000 SF Contiguous
Acres:
Price/Acre:
Zoned: Commerical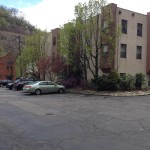 This three story building located at 130 Wabash Street has an enticing appeal for a business that desires the city atmosphere, close to the "big" city, and without all the hassle associated with finding a parking space. Located on a main roadway, this office building is highly visible to daily commuters and visitors. Its unique location sits between several major roadways leading to downtown Pittsburgh, the South Side, the North Shore, and the Greater Pittsburgh International Airport.
130 Wabash Street Pittsburgh PA 15220 Available For Lease
Available space for lease ranges from 400 square feet to 2,000 square feet contiguous. The owner is willing to subdivide. Some recent changes to the building include newer windows and utility upgrades. A private paved parking lot is located adjacent to the building for off-street parking for employees and/or customers. Public transportation is also available through the Pittsburgh Port Authority Transportation System. Several routes lead to and from Pittsburgh and some of the surrounding areas.
Recent changes to traffic flow and modernization of the West End Circle, as well, as the re-opening of the Wabash tunnel, provides easy access and visibility to 130 Wabash Avenue. Located a short distance from 130 Wabash Street is The West End Bridge which crosses the Ohio River and connects the West End to the North Side of the City. Carson Street is the connection to Station Square and the South Side to the east and to the borough of McKees Rocks to the west.
Property Map For 130 Wabash Street
Originally named Temperanceville, the West End is a neighborhood that lies in a small valley south of the Ohio River and is less than one mile from downtown Pittsburgh. The West End Valley includes several western neighborhoods including, Sheraden, Elliott, Windgap, Esplen, Ridgemont, Westwood, Oakwood, East Carnegie, Chartiers City, Fairywood, and Crafton Heights. The West End has become a business district that is attracting a renewed interest as a design district. In 2009, the Urban Redevelopment Authority added West End as a Mainstreet Pittsburgh District. This addition has provided assistance for current businesses as well as attracting new businesses to the area.