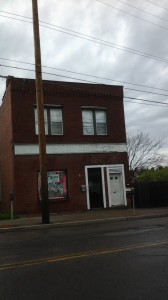 For Sale – 4 Unit Apartment Building
442 Brownsville Road is an apartment building for sale that offers an investment appeal to both new and seasoned investors.   This would be a great start up investment for new investors who may be seeking a place to reside as well as have a residual income.   It also provides an opportunity to house your business and residence in one location to avoid commuting.
Ideally located on Brownsville Road in the southern section of Pittsburgh, this multi-unit consists of two three bedroom apartments, one two bedroom apartment, and a retail store front.  The storefront can also be converted to an efficiency apartment.  Some of the neighboring communities include Carrick, South Side, Arlington, Mt. Oliver, and Allentown. 
Price: $260,000
Address: 442 Brownsville Road
City: Pittsburgh
State: PA
ZIP: 15210

MLS #: 1019343
Square Feet:
Acres: .12
Price/Acre:
Zoned: Commercial

Historically, Brownsville Road has been known by several names including Redstone Road and the Brownsville Plank Road.  Perhaps these names were derived from its former appearance of the cobblestone road and street car tracks.  In fact it was once considered an electrical service road as it was home to streetcar transportation.  The cobblestone road with its streetcar tracks has been replaced with asphalt and streetcar transportation has been replaced with public transportation serviced by the Port Authority of Pittsburgh. 
Recently renovated, the apartments boast of many new updates including new windows, upgraded mechanicals, and wall to wall carpeting.  Kitchens are equipped with a stove and refrigerator.  On-street and off street parking is available.  Located behind the building is a two car detached garage which can house two vehicles or be used as storage.
Utilities (with the exception of water and garbage) are separately metered allowing tenants to pay for their own utilities.
Apartment Building For Sale in Pittsburgh
This unit sits in the Knoxville section of the City of Pittsburgh and is serviced by the Pittsburgh Public School System as well as some private institutions.  Because of its access to public transportation and proximity to the City of Pittsburgh, it is an ideal location for attendees to many of the universities and hospitals housed in the Pittsburgh area including, Carnegie Mellon, University of Pittsburgh, Duquesne, Robert Morris University, and UPMC.