McCormick Real Estate presents 719 Lebanon Rd West Mifflin, PA 15122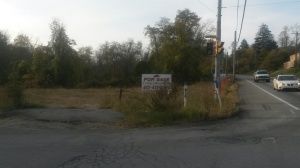 Are you in search of some vacant land for development in West Mifflin?  719 Lebanon Road is available to fulfill that need.  These two acres of level land are an ideal investment for the owner/investor and/or developer.  This is an unusual find in this area as most of the terrain is hills and woods.  Located along one of many major roadways in the Borough of West Mifflin, 719 Lebanon Road is exposed to 30,000+ vehicles each day making this an ideal location for a new business, expansion and/or relocation of an existing business.  Signage option is also available.
Price: 130,000
Address: 719 Lebanon Rd
City: West Mifflin
State: PA
ZIP: 15122

MLS #: 979256
Square Feet: 87991
Acres: 2.02
Price/Acre: 64,356
Zoned: C-1

Conveniently located just minutes from the Allegheny County Airport, The Waterfront, Oakland, and the City of Pittsburgh, this commercial piece of land is an ideal location for a new or expanding business.  Bordering communities include the City of Pittsburgh, Munhall, Whitaker, Duquesne, Dravosburg, Jefferson Hills, Pleasant Hills, and Baldwin.  West Mifflin is also home to several entertainment, educational, and technology venues including:
Kennywood Park, one of America's oldest traditional amusement parks;
Bettis Atomic Power Laboratory, an advanced naval nuclear propulsion technology research and development facility;
U.S. Steel Mon Valley Works, a steel processing plant;
Community College of Allegheny County, educational facility offering continuing education  for degree, non-degree, and certificate programs;
Pittsburgh Institute of Aeronautics (PIA), which offers training and degrees in Aviation Maintenance and Electronics Technology;
Bombardier, a monorail manufacturer;
Two Large Shopping Plazas: Century III Mall and Century Square;
Port Authority Transit, public transportation;
Hot Metal Plaza;
Allegheny County Airport; Hot Metal Grille; and many more
With the introduction of fracking in this area, an increased demand for CDL drivers has enabled the All State Career School to open a campus in West Mifflin.  
To schedule a visit to the vacant land for sale in West Mifflin at 719 Lebanon Rd or get  more information on this opportunity call McCormick Real Estate & Management at 412-747-0500.